Careers at Porto Montenegro
At Porto Montenegro, we believe in creating a harmonious working environment. In pursuit of this goal, we are committed to provide an exciting, challenging and rewarding workplace and experience.
Here, we empower our people to provide great customer service, make good decisions on their own and think outside the box. We feel confident that our goals can be reached through innovative, practical and entrepreneurial approach of our team.
Our objective is to assure that our team is highly qualified and motivated to deliver our business goals. Therefore, we select our employees with due care and recruit people who reflect our values.
---
Become a part of Nature TheVision squad
We understand the key component of a successful business is a good and functional team. With that in mind we encourage our employees to participate in a series of fun and exhilarating activities specially designed to boost team spirit, forge new connections and help strengthen existing ones too.
Nature TheVision project is a set of recreational and exciting outdoor activities created by the employees for the employees, allowing them to get to know each other better and share good quality time in a non-work environment, while exploring various Montenegrin landscapes and offerings.
There's a dedicated Nature TheVision Committee who is the perfect host of the project to get you into the right frame of mind.
---
Hear from our Employees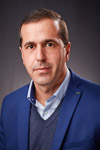 ---
OUR VALUES AT A GLANCE
- - - - - - - - - - - - - - - - - - - - - - - - - - - -
WE collaborate with our colleagues and the community to achieve common goals
WE seek the highest standards in everything we do to achieve exceptional customer service
WE keep our promises and act with the highest ethical standards
WE value each other's opinions & contributions
WE treat everyone in the community equally
WE are open & truthful to each other
---