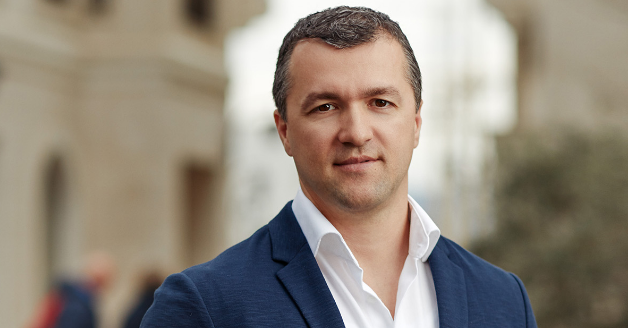 Nenad Beko recently celebrated 10th work anniversary at Porto Montenegro - his career is a prime example of how a local, someone who is from the Bay of Kotor, has been professionally developing in the international environment from the very beginning of the project implementation and now holds a senior position in Sales department. In the interview for Porto Novosti, he talks about the strategic development of the project, the benefits and values adopted by the local community, and positioning of Montenegro on a world map of investments & destinations.

We are pleased to announce a new addition to the Porto Montenegro residential collection - luxury residential units in Elena residences are on the real estate market. What are their specifications?
Elena is a luxury residence of modern design that will provide many benefits to the homeowners: their mix is adjusted to a variety of clients, from studios, 1-, 2- and 3-bedroom (penthouse) apartments. There are spacious terraces with exceptional view, residents-only pool and gym, and numerous retail outlets. Location of the building is very favorable, on the main promenade in the village. Access to Owners Club of Porto Montenegro entails a number of privileges during their stay in the village, from 24-hour concierge and reception service, to invitations to all events in the calendar of the attractive wine tasting, lifestyle sports tournaments, art performances and unique shopping and gastronomic experiences.
These luxury residences are equipped with Mitsubishi sophisticated energy-efficient systems for heating, cooling and ventilation, which in the modern way allows owners to adjust the temperature in their apartments and facilities. Also, the residences own a fire detection system, a satellite TV distribution system, IP video surveillance system in public areas on the ground floor of the building and around it, intercom entrance system, Wi-Fi system, CO detection system of exhaust gases in the garage, as well as Sauter management system of the building itself.
Works on the extension of Regent Pool Club Residences will be also completed in the summer of 2019?
Baia is the second residential building within Regent Pool Club Residences, next to the Aqua wing, whose completion is expected in July. It is also a luxury residential building like Aqua and Elena, equipped with all of the above-mentioned technical systems, providing its occupants with the extraordinary access to a very nice pool complex and others services that Regent Hotel offers.
What is the profile of Porto Montenegro residents i.e. owners of the real estate in this nautical village - where they come from, what is their primary reason for buying residential units in Tivat Riviera and what are the benefits of living in Porto Montenegro?
One of the goodwill values of Porto Montenegro is a diversification of the owners, both owning a residential unit and a yacht in our marina. Our residences have attracted many clients from all over Europe and around the world. Since 2009, when we began selling units within our first residential building Teuta, to this day, the diversity of owners has changed, from Russians, British, clients from Montenegro and region, Swiss, Italians, Dutch, Americans, Czechs, clients from The Middle East, Japan, Canada, Australia, Bulgaria, Kazakhstan, Qatar, until recently when we got clients from the UAE, Belgium, Germany, Austria and others.
The combination of beautiful nature and warm welcome our clients can feel in Montenegro along with professional service in Porto Montenegro are one of the biggest benefits that this destination offers. There is a favorable tax system in Montenegro, as well as developing economic investment environment, which attracts clients and investors all over.
This year you celebrate 10th work anniversary at Porto Montenegro project. Can you briefly summarize its development from your point of view, and which segments were predominantly developed and implemented?
It was very interesting to observe the development of this project, from the preparation of area where Porto Montenegro is now located, over the construction of marina (where I began my engagement with Porto Montenegro, setting up business system in the Marina department) to the development of residential part of the project. Equally interesting is the development of our company in terms of organization. Change of ownership over the project changed us both as an organization as well as our business approach – it is very exciting to be part of it and have the opportunity to observe it for such a long period. The competition, the transition in business, geo-economic changes in the region and the world have a great impact on our company too. The challenge is to maintain and improve the quality level of service we have achieved in all these years. I am certain that, and so certifie clients' comments, this is the greatest achievement of our project.
Your career development is a real example of how someone local that comes from Boka Kotorska and Montenegro can gain experience on an international project like Porto Montenegro is?
The wave of foreign investments that occurred in Montenegro made possible to gain great experience, mainly coming from the West, on projects in Montenegro as well. I was fortunate to join this trend early on, but now I think that a lot of locals already carries a similar experience. I can clearly see the growing number of local people engaged in similar projects, from 2008 until today. Ten years ago, mainly foreigners were coming to Montenegro and performing these jobs, while today this is not the case. I think that Porto Montenegro extremely contributed to the development of this region, and that this project continuously disseminates positive effects.